Taking the Ultimate Driving Machine
to the next level!
We pride ourselves on having discerning taste when it comes to building custom BMWs, because we know some of our clients want something that's unique – even a "One Off". For a select few of our vehicle builds, we delve into the haute couture arena of features & accessories BMW has to offer.
Whether it is tapping into the selection of BMW Individual paints and drawing inspiration from models of the past, or making choice decisions from the M Performance Parts catalog, we aim to provide a rich selection of unique BMWs that demand attention.
We also have a free consultative service where we can build you a unique car from our pallet of 160 special colors, individual trims and custom upholsteries.

Welcome to the New Country BMW 'Capitol Collection'.
2019 BMW
540i xDrive 'M' Sport
is finished in Individual Rhondite Silver. The Black Nappa leather has contrast stitching and the interior is accented with Gray Poplar wood trim. Even the dashboard is wrapped in full black leather. Incredibly well equipped with Premium Package, Executive Package, Parking Assistance Package, Multi-contour seats, Heated Steering wheel, Harman-Kardon Sound system, this car blends Executive sedan with sporty flair. Notice the 'M' Sport brake calipers are accented in BMW Blue. The black kidney grilles, carbon fiber rear spoiler and subtle rocker blades tell on-lookers this is no ordinary BMW 540. Something truly special at MSRP $78,025
VIN : WBAJE7C59KG893198 - Stock : C8896 - MSRP : $78,025
2020 BMW
M4 Coupe
This truly one-off sports car pays homage to the 2011 E92 BMW M3 GTS that sadly never made it to the US market. The car was renown as the first BMW to be finished in the very distinguished "Fire Orange". The interior has Full Black Merino leather. Sitting on the 20 inch 'M' Star spoke alloy wheels, this 414 horsepower car uses an M Double Clutch transmission to get the power to the back wheels. Superbly equipped and with all the carbon fiber possible both inside and out, this car is simply head-turning. Note the rocker blades and front lip have been color matched to the car. This 'One of One' car is offered for sale at MSRP $96,105
VIN: WBS4Y9C04L AH83117 - Stock : C8830 - MSRP : $89,355
2019 BMW
M5 Competition
Think of the word "Ferrari" and an image of a bright red car appears in your mind. But as Ferrari doesn't make a 617 Horsepower 4 door sedan, we have custom ordered this M5 Competition in "Ferrari Rosso Corsa"; the color synonymous with the performance brand. With Full Black Merino Leather, Executive Package and Driving Assistance Plus Package, this beautiful car sits on 20 inch 'M' Y-spoke alloys wheels. With the carbon front splitters, rocker panel blades, rear diffuser, and 'Pro' spoiler; this car is the ultimate garage companion to your prancing horse! Offered for sale at MSRP $130,560.
VIN : WBSJF0C5XK B448210 - Stock : C8915 - MSRP : $130,560
2019 BMW
M4 Competition
This 414 Horsepower sports car is finished in Individual Tanzanite Blue with Silverstone Full Merino Leather. Yes, the leather is not just on the seats, it's on the doors and dashboard too. Sitting on 20" Star spoke alloys the car has many additional unique features. Check out the Carbon Fiber Rear Spoiler. The Carbon Fiber Front splitters are underlined by a custom color matched lower lip and 'M' rocker panel blades. Beauty meets form and function. SORRY - SOLD
2019 BMW
440xi 'Luxury Line' Gran Coupe
Finished in Individual Citrin Black, this color dances between black and dark metallic brown with a sparkle of gold in the sunlight. Complimented with Individual Golden Brown Merino leather and Burl Gloss wood trim and leather dashboard, the car is breath taking. Very well equipped with Executive package, Convenience package and Driver's Assistance package this unique car is offered at $66,565.00
VIN : WBA4J7C58KBM76256 - Stock : C8334 - MSRP : $66,565
2019 BMW
M5 Competition Individual
Finished in Azurite Black Metallic with Smoke White / Black two tone interior. This 617 horse power Twin Turbo V8 delivers unrivalled performance at this price level. With standard All Wheel Drive, no wonder is has been voted 'Best in Class' so many times. This unique car is very well equipped with Executive Package and Drivers Assistance Plus Package and stands on 20 Inch 'M' Y-spoke alloys. With the sporty yet subtle Carbon Fiber Rocker Blades and BMWs all new Carbon Pro rear Spoiler this car is the Ultimate sleeper; a wolf in sheep's clothing. The M5 Competition is the pinnacle of 5 Series range and this one off car is available at $127,435
VIN : WBSJF0C56KB446969 - Stock : C8503 - MSRP : $127,435
2019 BMW 440i xDrive 'Luxury Line' Individual Convertible
This stunning 2019 BMW 440i xDrive Convertible is finished in Imperial Blue Metallic with 'Individual' Opal White Extended Merino Leather and leather dashboard.
Complimented by Ash Grain Wood with a Metal Inlay, this beautiful car evokes a nautical theme. Superbly equipped with Luxury package, Convenience package, Drivers Assistance package plus Active Cruise Control, Executive package, Adaptive LED headlamps and Heads Up Display. The Heated Steering wheel and Neck Warmers will keep you toasty on those fall evening drives by the shore. SORRY - SOLD.
2019 BMW
M550i xDrive
Finished in unique Champagne Quartz metallic. The unique properties of this paint refract different colors, so much so the car changes color as it moves. From one angle it's a champagne color and from the next a sporty mid gray metallic. Complimented with Individual Smoke White Full Merino Leather with contrasting stitching. Black stitch on the white leather and white stitch on the black leather. Even the dashboard is all leather. Of course the car is beautifully equipped with Luxury Seating Package, Premium Package 2, Drivers Assistance Plus Package, Parking Assistance Plus Package with the additional remote Control parking, Executive Package, Heated Seats and Steering wheel, Ceramic Controls and LED Headlamps. To give the car even extra presence, the car sits on 20 inch 'M' double spoke alloys and has the subtle 'M' rocker panel blades that are color matched to the body perfectly. The only one of its kind in the world! SORRY - SOLD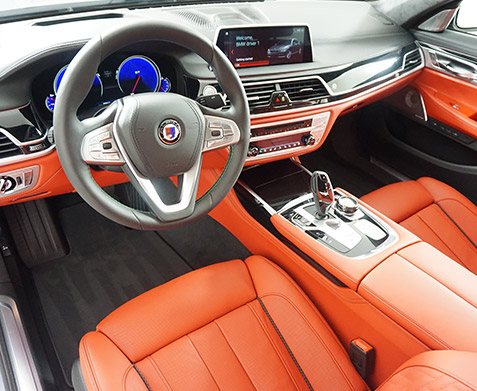 2019 BMW
ALPINA B7
Specially ordered in Frozen Gray Matte finish paintwork with Diane Red leather. This super rare Alpina B7 is stunning. The 600HP V8 is the best of both worlds. Sports car in one mode, Luxurious sedan in another. Complete with the 21" Alpina alloys and All Wheel Drive this car has stunning presence. SORRY - SOLD
2019 BMW
750xi Individual

Finished in Individual Ruby Black metallic, this incredible color reacts to the light. Deep black at night, Ruby Red in daylight, almost the color of a good Cabernet! True subtle elegance. Finished with sumptuous Cognac Leather interior, an Alcantara suede headliner and burl wood accents, the interior is opulent. The Luxury rear seating offers passengers reclining heated and cooled seating and various individual settings from the rear touch pad controls. Of course the front passenger enjoy 20-Way Comfort seating too. There's no bad seat in this house! SORRY - SOLD
2019 BMW M550i xDrive 'Special Order'
Finished in Malachite Green this car celebrates the history of BMW. This color has not been used by BMW since the late 1980s when it was available on the BMW E30 3 Series. Complimented with its full Mocha Nappa Leather interior, even with a full leather dashboard, this car is simply beautiful. This is the kind of car that admirers will ask "What color is that? I've not seen it before". To be able to tell them it's the only one in the world is a very special feeling. Of course this car is very heavily optioned but is also SORRY - SOLD
2019 BMW M5 Competition
is finished in Special order 'Santorini Blue' with Black Full leather. Loaded with options including Executive package and Bowers and Wilkins Sound system, the car is finished with Carbon Fiber elements making this one off car is simply spectacular. Sorry - SOLD